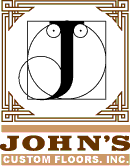 Testimonials &
John's Custom Floors in the News
Testimonials


Don and Donna Hirschbein write:

Our new hardwood floors are beautiful. What a dramatic addition to our home! There's no telling where the old floor ends and the new ones begin. You've done a spectacular job. We have recommended your services to several of our friends. Not only is your craftsmanship impeccable, so also is your consideration for the client. Each day you left our home as neat as could be. We appreciate all that you do so well! Thank you.

Don and Donna Hirschbein
San Francisco Bay Area
---


Edward Powell writes:

Edward Powell, Inc. is a general contracting firm specializing in the remodel of high end homes on the Peninsula. We have been in the business since 1974, and over those years have assembled a team of subcontractors whose skills we utilize exclusively.

We are proud to say that John's Custom Floors, Inc. is part of that team. John Paulazzo's expert advice is important to us and ranges from consultation on repair of existing floors to installation of new floors. Job scheduling is also critical to us, and in this respect John is also adept. He and his crew always arrive and complete their work as scheduled

We are happy to recommend John's Custom Floors, Inc. for any hardwood flooring project.

John Powell, Vice President
Edward Powell, Inc.
San Francisco Bay Area
---


Jeff DeBalko writes:

We first had the pleasure of working with John in 1987 when we hired Sig's Custom Floors to refinish the hardwood floors in our Redwood City home. We were extremely impressed with the quality of work and the exceptional customer service from this family run business. When we went through a major home remodel last year, we were pleased to learn that John had taken over his father's business and was available to install our new hardwood floors. The quality of the installation work was equal to that of the refinishing work done earlier. John was especially helpful and accommodating to us in dealing with the many changes and difficulties in scheduling between multiple contractors. Just recently, we asked John to come back to take care of a "small" refinishing job in our hallway. What we thought was small job turned into a large one as most of the existing wood under the carpet was damaged and needed to be replaced. Despite the unforeseen additional work, John made the extra effort to insure that the job was completed on our tight schedule. We could not be more pleased with the quality of work and service that John has provided over the past 12 years.

Jeff DeBalko, President
IDG Global Communications
San Francisco Peninsula
---
John's Custom Flooring in the News
As Featured in Straight lines: The Newsletter of Golden State Flooring


John's Custom Floors, Inc. of Redwood City is known for its dependability, honesty, and quality work. Custom residential flooring installations are the main focus of their business. But recently they have poised themselves to compete in the commercial arena. Their sterling reputation for customer satisfaction and quality workmanship is second to none in the industry."

As Featured in Hardwood Floors:
The Magazine of the National Wood Flooring Association, Floors of the Year Issue
---


As Featured in The San Mateo Times, Home and Garden:
Why People Are Taking A Shine To Wood Floors. - By Dan Seaver, Times Staff Writer.




When Patty and Shel Zatkin moved into their new Redwood City home, they decided that they wanted sturdy floors that wouldn't show dirt. So they put linoleum in the kitchen and carpet in the living, dining, and bedrooms Now, after years of scrubbing wine stains off the dining room carpet and watching grime collect in the ridges and grooves of the linoleum kitchen floor, something new is afoot in the Zatkin household. The Zatkins decided to start over, installing wood floors in the kitchen. "The linoleum would get scratched and just show everything, all the dirt," said Shel Zatkin.

The Zatkins are so happy with the new floors that they are thinking about installing wood floors throughout their house, one room at a time. "This is a much harder surface, more resistant," Zatkin said. "And where linoleum showed all the dirt, wood shows a whole lot less. The reason for the chance isn't just cleanliness, though. Zatkin said the original decision to install wood floors was made easy because of how good they looked. "We have oak cabinets and oak shelves and thought it would look good. And you know what, it looks great," he said. Wood Floors are not what they used to be. The once-popular, wax-coated wood and wood veneer surfaces lack the durability and ease of care that new technology allows. Because veneered floors can't be refinished, damaged wood usually has to be replaced. Now, though, urethane finishes protect against most stains. Unlike thin veneers, wood flooring finished with urethane is usually 3/4 inch thick. Therefore, it can be resurfaced, re-sanded, and even refinished for a completely new look. When it comes to cleaning, a water and vinegar mix or a commercial solution designed for such flooring does the trick. "Spilled coffee, red wine stains, mud - the stuff of nightmares for carpets - require no more than a damp sponge," said John Paulazzo, president of John's Custom Floors Inc., of Redwood City. "It really becomes easy to care for," Paulazzo said. "If it gets scuffed over time, you can refinish it, and it looks brand new." Wood floors come in a full range of colors. Woods such as beech, cherry, mahogany, and eucalyptus with natural stains have become more common, Paulazzo said. Still, he said, oak is still the most popular choice. Once the type of wood is selected, installing a wood floor can take about two weeks, Paulazzo said.

Once the wood is laid on the subsurface, it is let to sit for a week to allow the wood strips to acclimate and adjust to one another before being sanded and stained. Then a urethane finish is applied to protect the wood. The urethane protects the raw wood and gives it a gloss. The more urethane, the greater the gloss. Paulazzo recommends two coats of well-applied urethane. He also suggests applying a new coat of urethane every five to seven years. "Some people are harder on their floors and might need to consider giving them a little help after less time," he added. "The more you finish, the more that will show up," he said. "If you put a lot on, it will look like a piano top, and then everything shows up." Paulazzo said wood floors work in almost every room of the house, but precautions are needed when wood floors are put into the bathrooms. Wood can expand and possibly buckle when soaked with water for an extended period of time. For the Zatkins, though, the wood floors have only made life easier and the house more attractive. "They look so good that we'll put hardwood in the other rooms, too," Zatkin said.