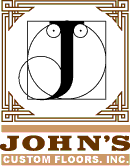 Refinish




Refinish Floor Selection
a Three-Step Process

If you have existing wood flooring in your home, refinishing can make your floors look like new.


1. Preparation Process
This is about a one week process. For instance, if your floors are sanded and stained on a Monday the first coat of urethane would be applied on Wednesday. The stain requires 48 to 72 hours to dry. The urethane takes about 24 hours to dry so the next application of finish would be applied Thursday and you would have access to the room again Friday. If you would like more information about finishes, please go to the Comparing Finishes section.


| | | |
| --- | --- | --- |
| | | Refinished this existing 5/16" x 2" strip flooring. This floor was installed in the 1930's and had been covered by carpets. |


The homeowners were pleased to find the beautiful custom made border upon uncovering the hardwood floors. Although there was some damage we repaired, these floors now look like new. The color of stain was a medium brown and we finished the job with polyurethane.

It is important to note that most damage to wood flooring should be repaired or replaced before refinishing to achieve the best results. There are some stains such as pet urine that will not sand out. The San Francisco Bay Area is one of the only places in the country where 5/16" x 2" strip was installed in a majority of homes.


| | | |
| --- | --- | --- |
| | | Floor with nail holes in 5/16 x 2" strip boards. |


You can identify this type of flooring by the top nails on the floor. When this type of flooring is re-sanded and re-stained to a lighter color than original, these nail holes will stand out because they will hold the darker stain.


2. Stain Selection
You will have unlimited possibilities when choosing the stain color. Upon sanding your floor, we will apply the stain color choices directly on the floor. This is key because it is the best way to get an accurate idea of what this color will look like in your home.


3. Finish Selection
The finishes on the market today are all good finishes, however, your lifestyle and specific needs may dictate the best finish for you. Read through our Comparing Finishes section in Install Section for more specific information.

At this time, the most common finish used is oil-modified urethane. We use this type of finish on the majority of our jobs. Oil-based urethanes can amber in color over time. This is why we use water-borne finish on our color sensitive projects such as white floors. It is important to use high quality finishes. The quality of the finish affects the final appearance of the floor as well as the durability. We use only the highest quality finishes.

Finishes can discolor over time. Ultraviolet light can change the color of a finish so it's important to drape large windows that have direct sunlight. Area rugs are an excellent addition to your wood floor, however, they should not be placed on the floor until the finish is fully cured. On a water-based urethane, area rugs can usually be placed after 14 days. On a solvent-based finish you should wait about 30 days after application of the finish.

Area rugs should be moved occasionally to maintain an even color in your finish. It's also important to use rugs with backing that allows the floor to breath and that are safe for wood floor finishes.
---
John's Custom Floors, Inc. | Redwood City, CA
tel 650 367-9217 | fax 650 367-8052
E-mail: jcfinc@sbcglobal.net License Number 554010
© Copyright 2000-2006