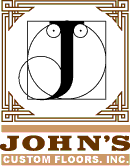 Floor Care Guide
---
Preventive Maintenance for urethane coated floors includes the following:
Use protective walk off mats at the exterior doors to help prevent sand and grit from tracking onto the floor. Gritty sand is any floors worst enemy. If your kitchen has wood floors, you may want to place a throw rug in the front of the sink to catch spills and splashes.

Install proper floor protectors on the furniture legs used on hard wood floors. Protectors will allow chairs to move easily over the floor without scuffing. Cleaning the protectors on a regular basis to remove any grit that may have become embedded.

Vacuum regularly. When the household carpets are vacuumed, vacuum the hardwood - a brush attachment works beautifully. Do not use a household dust treatment as this may cause the floor to become slick, or it may dull the finish. Or, simply sweep the floor as needed.

Damp mop a hardwood floor. Excessive water causes wood to expand and possibly damage the flooring. Finishes are to protect the stain and face of the wood. They are not a bonding or waterproofing product.

Keep high heel shoes in good repair. Heels that have lost their protective cap, thus exposing the fastening nail, will exert over 8,000 pounds per square inch of pressure on a floor. That's high enough to damage any type of floor covering regardless of wood hardness. Have them repaired.

---
Regular Maintenance:
Food spills should be cleaned up in a timely manner using BonaKemi Hardwood Floor Cleaner. BonaKemi Hardwood Floor Cleaner is a waterborne neutral cleaner which leaves no residue. We do no recommend the use of furniture dusting products, oil soaps or other harsh cleaning products.
Shoe marks can be removed using a spot application of BonaKemi Hardwood Floor Cleaner and a non-abrasive scrubbing pad. Difficult marks can be removed using a "white" grade maintenance pad and cleaner.
Waxing is not necessary or recommended. Once you wax a urethane finished floor, it is difficult to recoat the floor as the new finish will not bond to the wax. In addition, once wax is used, then you must maintain both the wax and the floor. Preventive cleaning and using a polishing buffer is the best way to maintain your desired luster level.

---
Acrylic Impregnated Floors:
Urethane coated:Some acrylic impregnated floors are coated urethane. For general cleaning of these types of floors, follow cleaning procedures for specific surface finish.
Sticky spills: Wipe up spills immediately. Then clean with manufacturer's recommended product and hand buff to the desired luster.
General cleaning: For general cleaning of non-urethane coated acrylic impregnated floors, a spray and buff system is required by the manufacturer. Always follow the manufacturer's recommendations and use their products when possible.

---
Wax Finishes:
General cleaning: Dry mop with untreated dust mop. Vacuum, sweep or dust mop as needed to remove grit from floor.
Sticky spills: Wipe up spills immediately with dry or slightly damp cloth. Then clean area with manufacturer's recommended cleaner or odorless mineral spirits. This may dull the area, so buffering may be required.
White spots: To remove white spots caused by water spills, use a fine steel wool (#000) and a small amount of mineral spirits. Rub gently in a circular motion until spot is removed. Then rewax the area and buff.
Traffic area: When floor loses it's luster in heavy traffic areas, rewax only those areas and buff.
Dull finish: Floors should be cleaned, stripped and rewaxed once or twice a year depending on traffic.