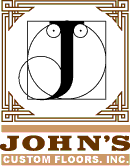 About ...
John's Custom Floors, Inc.
Old World Craftsmanship and Experience
John's Custom Floors, Inc. is managed and operated by John Paulazzo. This family owned company follows the classic technique and tradition of John's father, Sig Paulazzo, of Sig's Custom Floors. John has over 25 years of experience in every phase of the wood flooring industry. He worked along side his father learning the trade for over three decades.


John and Sons - with Sig
Three Generations of Craftsmen


John's father Sig began his career in the wood flooring industry over 50 years ago. Sig worked for several wood flooring companies in the Bay Area. John and Sig were together installing the wood flooring in the new homes of Foster City and Redwood Shores in the 1970's. When Sig started his own business in 1973, John began learning the family trade by working with him on the weekends. Although now retired, Sig is still involved in the family business when his unparalleled expertise is required with custom projects.

To ensure excellent quality control and an appealing final result, John personally designs and plans every job. Furthermore, he personally supervises all critical phases of most alongside his crew. In addition, John consistently uses the highest quality products and machinery which is reflected in the beauty and appearance of your floors.

Your Satisfaction Comes First

Customer satisfaction is such a priority at John's Custom Floors, Inc. that nearly 90% of our business is repeat and referral business from previous customers. John has developed long-term relationships with satisfied customers over many years. Can we do the same with you? Call us!


---
Professional Affiliations

John's Custom Floors, Inc. is a member of the
National Wood Flooring Association (NWFA). John's has frequently received recognition from the NWFA, for outstanding floor design .

Read through our flooring choices section then call us for expert workmanship and beautiful wood flooring.